PAUL NIPPER SET TO RELEASE 'KAMIKAZE HEART' MAY 19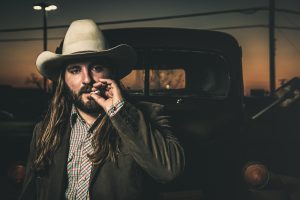 " A must-listen…" – DAYTROTTER
Co-produced by Mike Harmeier (Mike and the Moonpies) and Nick Jay; Features Texas fiddle legend Doug Moreland and more
Austin-based singer/songwriter Paul Nipper is set to release his sophomore album 'Kamikaze Heart' on May 19.  Combining elements of outlaw country, Americana, roots and Southern rock, the result is a superbly crafted album bursting with rawhide-tough guitar licks; bold, timeless arrangements and 1970s Waylon-esque influence melded with Nipper's gift of clever musical storytelling.
Recorded in Dripping Springs, TX at Century Recordings, 'Kamikaze Heart' was co-produced by Mike Harmeier (Mike And The Moonpies) and the studio's proprietor Nick Jay and features twelve tracks written by Nipper (North Dakota born singer/songwriter Leo Rondeau and Rance May of Anahuac, TX wrote two of the album's songs). "They [Harmeier/Jay] had the vibe that a band leader looks for in band mates on stage – strong communication skills and an openness to making the songs fit me," explains Nipper of the production experience. "Mike and Nick were in sync throughout the whole process. It never hurts to have a Neve recording console lying around either."
"A swift kick in the ass," is how Nipper describes his sophomore album's hard-hitting opener, "Asphalt And Heartaches." The lead guitar weaving in and out of the crying pedal steel over a quick tempo and stellar organ pieces leave listeners wondering whether they are being driven to the church house or the barroom. The album's title track (co-written with Rondeau) is a sparse love song with minimal production highlighting the difficulties of making a relationship work through hard times with not-so-easy-to-love characters.
"We really tried to have the musical influences that drove the songs' creation come through in the recordings," Nipper said. This rings true on "Fiddler's Lament", inspired by fiddle legend Doug Moreland, who also plays on the track.  Outlaw country crooner Gary Stewart influenced the sound behind "Out of Sight". "I am a huge Gary Stewart fan", Nipper commented. "Mike [Harmeier] really helped us to achieve the 70's honky-tonk vibe we wanted on that one."
Nipper gets personal with "Mamma Loved Roses" – a seamless, nostalgic ballad inspired by his parent's marriage that touches on actual events in their lives.  Rounding out the album is the energetic, piano-laden "One Of These Days" and "A Lady" – a sweeping psychedelic-country track heavy on the iconic Phase 90 pedal bookended by Nipper's smoky vocals. Coming into his own sound, the album closes on a more venturous note for Nipper and his band. "Flyin' High" is a forewarning of sorts to individuals looking to dive into the touring culture. The heavy phasing ring of the telecaster in the final track is haunting, perfectly accenting the song's cautionary nature.
Assembled by Nipper in 2014, his band was originally formed to play dance halls and honky tonks across the state of Texas. Austin Dean Lowrance, originally from Nashville, TN, handles lead guitar duties.  Austin TX's own Kristopher Schoen, formerly of Statesboro Revue, is the band's drummer. "This is the project to take us to the next level", Nipper says. "This ain't your daddy's country band, but your daddy might like it."
Nipper will tour extensively throughout Texas and beyond in 2017. For tour dates and other news, please visit http://paulnipper.com/